Many birds are known for their melodic songs, bright colors, and courtship rituals, but did you know that bowerbirds can build stick castles? Did you know that some bowerbirds will actually paint their structures and decorate them with natural and man-made objects?  Time to learn about some amazing bird engineers!
In the forests of Australia and New Guinea, there some birds that kick up the creativity and wow factor during courtship through structural engineering. Bowerbirds are comprised of about 20 species and are named for the elaborate "bowers" that the males build to attract females. I should point out that bowers are not nests and the male does not help raise the young. Male bowerbirds gather all kinds of materials to add to the grandeur of their castles. Males will arrange an assortment of sticks, leaves, moss, colorful flowers, rocks, coins, and even plastic bottlecaps or toys to impress the ladies! Constructing a good bower takes a lot of hard work! Sometimes male bowerbirds will use a theme when designing their bower. Presenting the petals of brightly-colored flowers is commonly done by flowerbirds bowerbirds.
Some male bowerbirds may add color to their bowers by chewing up berries! The birds use the juice to stain their bowers! Some species, like the Satin Bowerbird, even color-code their structures! Satin Bowerbirds seem to prefer blue and will collect blue items such as berries, feathers, flowers, insects, and shells. This means that male Satin Bowerbirds are quite annoying to face in Mariokart. After the males have finished creating their palaces, females will come up to the bowers and inspect them. If a female is impressed with the male's work, she will mate with him and then move off to build a nest. If the male's design doesn't meet the female's standards, she will move on to another bower. Males will sometimes attempt to encourage a female to visit by dancing and singing. According to researchers, some bowerbirds arrange their bowers to produce optical illusions that influence visiting females! Check out this link from BBC to learn more about this! Experienced males may win the affections of multiple females over the course of the breeding season. Occasionally, a veteran male may hire a group of young bowerbirds to help defend his bower from intruders while he gathers supplies. These defenders are called bower rangers. Ducks for cover.

              Welcome to my bower!                                            Everything is blue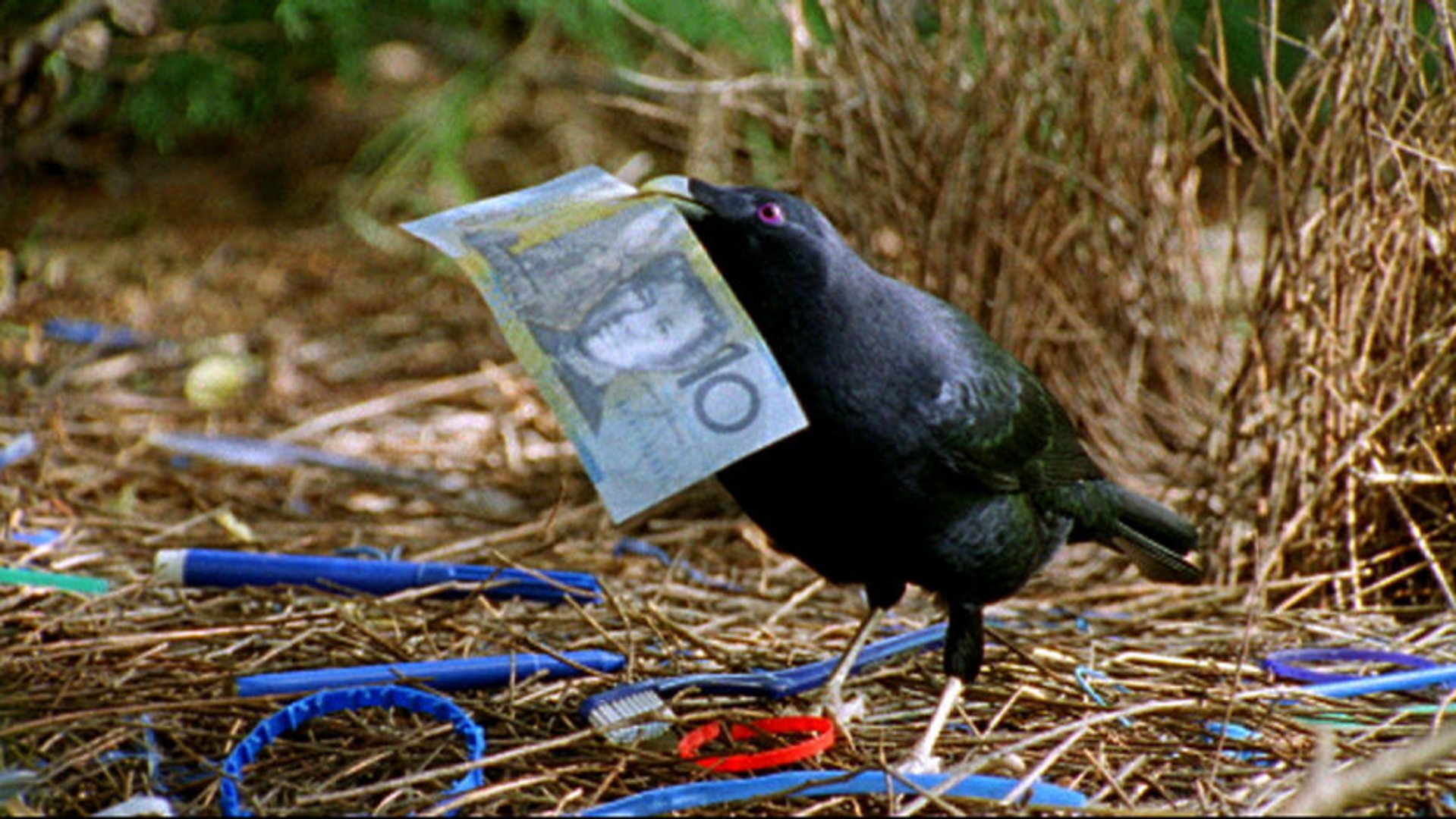 Must find more blue items!                                         Hey ladies! I'm rich!
I hope you found this small glimpse into the world of bowerbirds interesting! They are certainly unique and fascinating birds. If you're interested in seeing them in action, check out the videos by BBC on Youtube. Did you know that a new movie about male bowerbirds and their quest to win females is coming out soon? It's called Lord of the Wings: The Two Bowers. Now if you'll excuse me, I need to find some blueberries to decorate my new log cabin.
Look at me! I have a berry!